STATEMENT DECLARATION
"COALITION FOR ASTHMA TREATMENT"
We, the undersigned, representing the stakeholders directly interested in the systemic aspects of bronchial asthma treatment in Poland, both from the patient's perspective, clinical care and economic aspects, recognize the need to urgently improve the availability and quality of bronchial asthma treatment in Poland. Bronchial asthma is one of the most common chronic diseases of the respiratory system. It most often begins in childhood and continues throughout the patient's life, placing a significant burden on the patient, his family and health systems. Taking into account the epidemiological and economic data, it is necessary to implement solutions that will provide patients suffering from bronchial asthma with access to holistic care, based on modern medical technologies, applied in accordance with the latest clinical guidelines and best practices in the field of disease management. Great hopes in this area are brought by the digital transformation of the Polish health care system, which was accelerated by the COVID-19 pandemic. It is thanks to the already implemented and popularized solutions that it is possible to reach for the tools that they can bring significant improvement in the area of ​​asthma management.
We declare the will to cooperate to recognize bronchial asthma as a priority of Polish health policy. We hope that our activities will contribute to a significant improvement in the quality of care for over two million patients diagnosed with asthma and will allow us to reach over a million of those who, according to from epidemiological studies are not aware of their disease.
We intend to implement this cooperation as an informal association – "Coalition for asthma treatment". We are of the opinion that, as a Coalition, our voice for Polish patients with asthma will resound with a multiplied force, reflecting the scale of the problem caused by this disease entity and the need to undertake urgent activities to improve the current state of affairs. Activities undertaken by the Coalition will include educational, communication and opinion-making activities.
We trust that our actions will bring real bronchial asthma patients and rapid improvement in the quality of medical care they receive.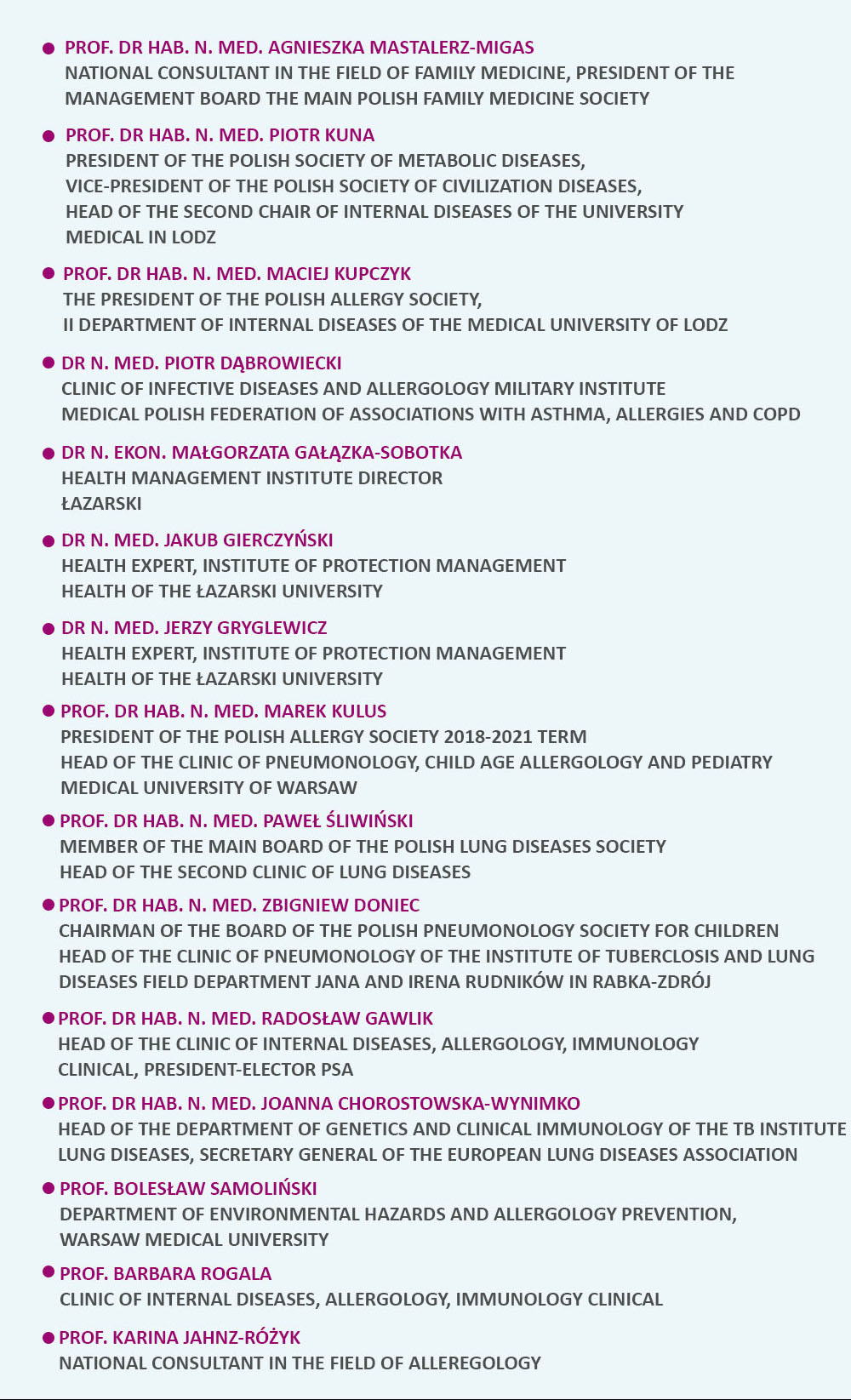 WORKING GROUPS
"COALITION FOR ASTHMA TREATMENT"
1. Working group for the follow-up of the extension of the e-prescription 2.0 project
Dr Małgorzata Gałązka-Sobotka
Prof. Agnieszka Mastalerz-Migas
Prof. Maciej Kupczyk
Prof. Marek Kulus
Dr Piotr Dąbrowiecki
2.Working group for contacts with decision-makers and leaders of healthcare in Poland
Prof. Marek Kulus
Prof. Maciej Kupczyk
Prof. Agnieszka Mastalerz – Migas
Dr Małgorzata Gałązka-Sobotka
Dr Jerzy Gryglewicz
3. Asthma Patient Registry Working Group
Prof. Marek Kulus
Prof. Radosław Gawlik
Prof. Piotr Kuna
Dr Jerzy Gryglewicz
Prof. Zbigniew Doniec
4. SABA Consumption Monitoring / Asthma Control Application Working Group
Prof. Marek Kulus
Dr Piotr Dąbrowiecki
Prof. Radosław Gawlik
Prof. Zbigniew Doniec
5. Working group for scientific activities during educational events
Prof. Marek Kulus
Prof. Maciej Kupczyk
Prof. Agnieszka Migas
Prof. Paweł Śliwiński
Dr Piotr Dąbrowiecki
Prof. Joanna Chorostowska-Wynimko